THE RELUCTANT BRIDE
by Monica Murphy
Genre/Tropes: Arranged Marriage/Fake Relationship/Dark Romance/Contemporary Romance/Billionaire Romance/Enemies-to-Lovers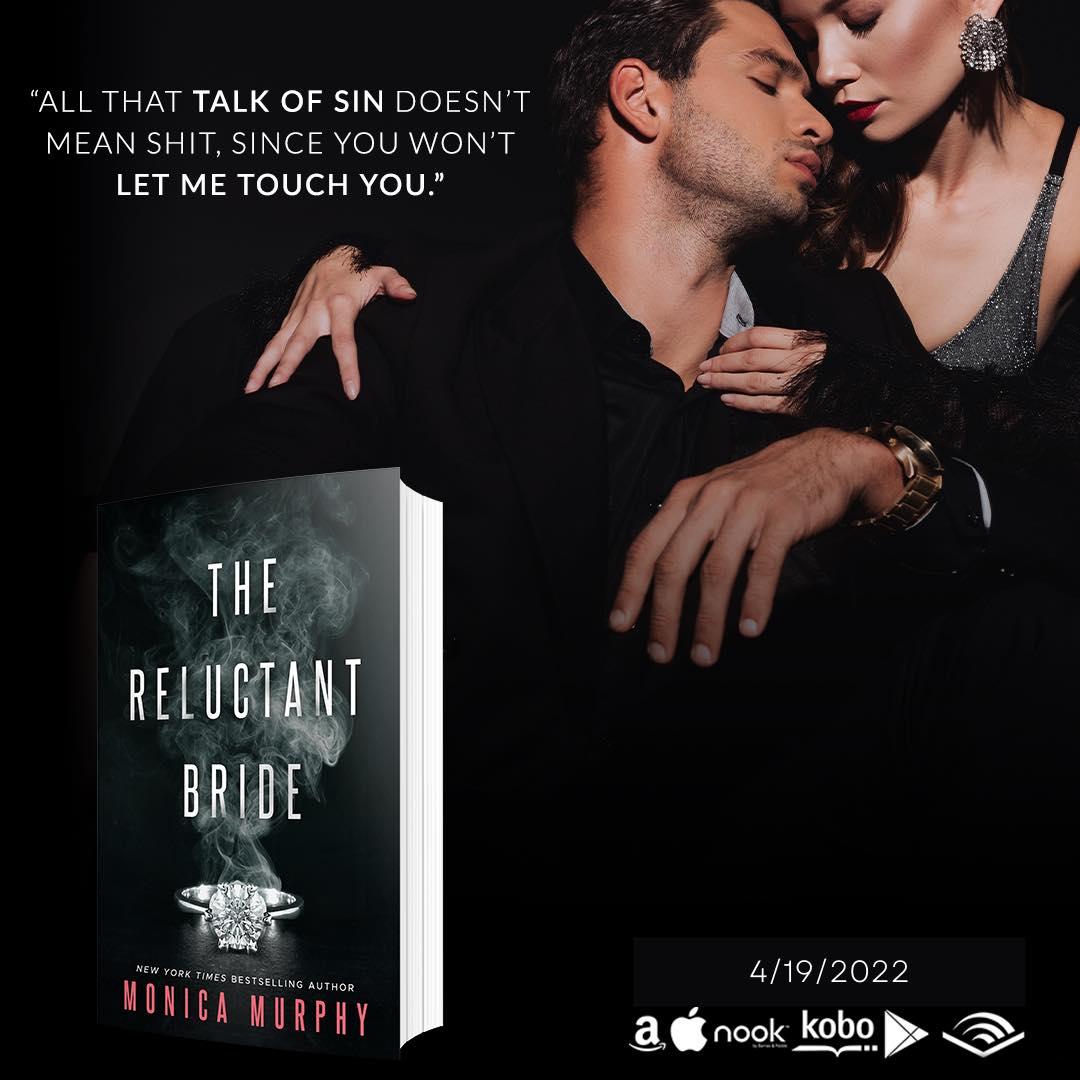 "You've got shitty men in your life."
"My brothers aren't so bad."
"I don't see them helping you out."
"They have their own lives to lead. Their own reasons to escape our parents," I say. "I don't hold that against them."
"I do. I think they're assholes," he spits out.
"They're not so bad once you get to know them," I say gently. Maybe Perry believes I'm not so bad once he gets to know me too? "Sometimes you can act like an asshole."
"When?" he asks incredulously.
"At the engagement party, when you spotted the bruises." What am I doing? It's like I want to get a rise out of him. And from the anger I see flaring in his gaze, I'm fairly certain it's working.
"Like I told you, I was trying to protect you."
"Well, now you've got me. The two of us living in sin all alone in this gorgeous penthouse apartment." I throw my arms out wide, indicating the room, the entire place. "You're benefiting yet again."
"I'm not benefiting from anything." His voice is flat, his gaze going to the window.
I stare at his golden profile, trying to ignore the way my heart starts to race the longer I look at him.
He's almost too pretty to be real.
"What do you mean, you're not benefiting?"
"All that talk of sin doesn't mean shit, since you won't let me touch you." His gaze finds mine once more and I go completely still at the flickering flame I see in his blue depths.
My mouth drops open and I ignore Doja when she makes her way toward me and winds her slinky body around my calves. "I assumed you didn't want to touch me."
It was all for show, right? He doesn't like me, not really. Most men don't.
"You know what happens when you assume."
We're both quiet, but I can feel something grow between us, until it steals all of the oxygen out of the room, making it difficult for me to breathe.
Awareness.
Of each other.
Dare I even think it's mixed with a hint of…
Attraction?
No.
Yes?
Definitely.
He's handsome, I can't deny it. When we touch, sparks fly. When we kiss?
I want to continue kissing him.
In private.
Without an audience.
I'm not his type though. And I saw his type at the engagement party thanks to Lindy. He likes them dark haired and voluptuous. Women who dress sexily and are confident in their every move.
Meaning the complete opposite of me.
"I'm curious," he finally says.
"About what?"
"You."
We're both quiet again, my mind going nonstop.
He's probably just playing me.
"There's nothing to be curious about." I lift my chin, hoping I look stronger than I feel. "According to you, I'm a scared little virgin."
"Yet according to you, you're an experienced woman who doesn't need—or want it to be—gentle," he throws back at me.
My entire body prickles with awareness at his words. The way he said I don't need it gentle.
Is he referring to what I think he is?
"Are you talking about…"
"Sex?" He walks further into my bedroom, drawing closer to me. Close enough that I can smell him, his cologne lingering in the air, along with his own unique scent. I subtly breathe him in, my head starting to spin.
He smells really good.
Too good.
Everyone's for sale, including me. One moment I'm the forgotten daughter of one of the most wealthy families in the country, and the next I'm the blushing bride in an arranged marriage. My fate is sealed in my wedded union with a complete stranger.
In public, Perry Constantine is the life of the party. Easygoing. Adored. In private, he's brooding. Dark. Angry. But so am I. It's a contest of wills to see who will break in the bedroom first, and while I try to remain strong, I find myself craving the very man I swore to hate.
My husband.
Monica Murphy is the
New York Times
and
USA Today bestselling
author of the One Week Girlfriend series, the Billionaire Bachelors and The Rules series. Her books have been translated in almost a dozen languages and has sold over one million copies worldwide. She is both a traditionally published author and an independently published author. She writes new adult, young adult and contemporary romance. She is also USA Today bestselling romance author Karen Erickson.
She is a wife and a mother of three who lives with her family in central California on fourteen acres in the middle of nowhere, along with their one dog and too many cats. A self-confessed workaholic, when she's not writing, she's reading or hanging out with her husband and kids. She's a firm believer in happy endings, though she will admit to putting her characters through many angst-filled moments before they finally get that hard won HEA.