MISSED NOTES
(Rixon High #5)
by L.A. Cotton
Release Date: August 23rd
Genre/Tropes:
Sports Romance/Brother's Best Friend
Book 5 of the Rixon High series (standalone)
AVAILABLE NOW!!!
Start the series FREE for a limited time!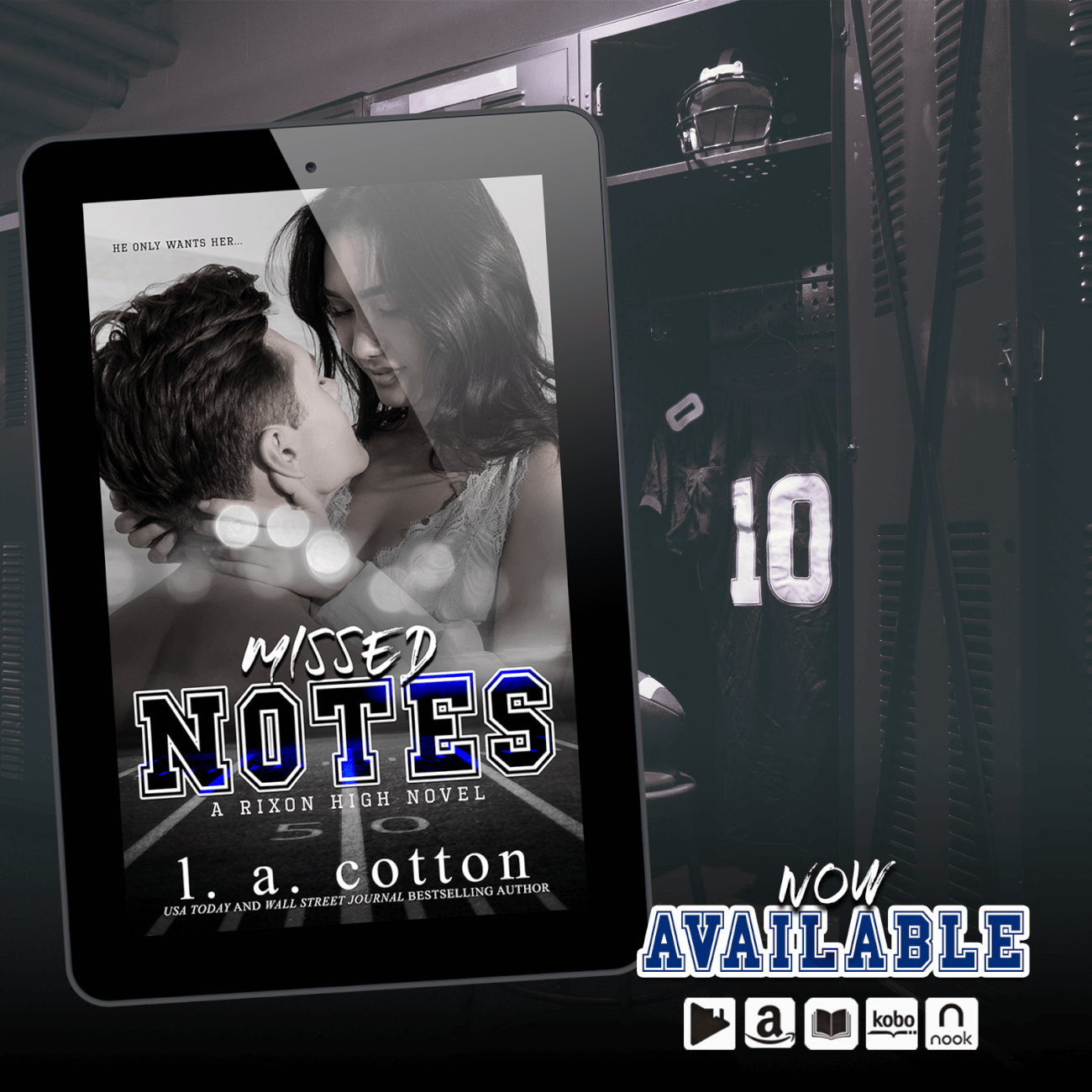 Blurb:
From USA Today and Wall Street Journal bestselling author L A Cotton, comes an emotional brother's best friend romance. Angst... drama... friendship... and football. Will you survive senior year?
Sofia Bennet has always imagined a bright future ahead of her.
But sometimes, life has other plans, and suddenly, you're walking a different path.
Cole Kandon has always sacrificed his dreams for others.
But sometimes, you have to go after them, consequences be damned.
While Cole is finally ready to fight for what he wants, Sofia is coming to terms with a revelation that changes everything.
He wants to be there for her.
She doesn't want to burden him.
But they need each other more than they realize.
Senior year just got a whole lot more complicated, and with emotions running high, is their new relationship enough to save them?
Or will their love song fade out before it hits the final note?
REVIEW
*I received a free copy of this book which I voluntarily chose to write an honest review for.
Just when I think this series cannot get any better Cotton gives us a new one that totally blows the others out of the water. Sofia and Cole have a romance for the ages. These two have so many things to overcome that at times it almost seems like they won't be able to make it but then a surprise twist is thrown into the mix taking the story on a whole different path. This all leads to the warm and fuzzy ending that these two totally deserve. A must read for fans of the series or just those looking for a feel good sports romance. I totally loved it so I give it 5/5 stars.

About the Author:
Author of over thirty mature young adult and new adult novels, LA COTTON is happiest writing the kind of books she loves to read: addictive stories full of teenage angst, tension, twists and turns.
Home is a small town in the middle of England where she currently juggles being a full-time writer with being a mother/referee to two little people. In her spare time (and when she's not camped out in front of the laptop) you'll most likely find LA immersed in a book, escaping the chaos that is life.