DARK LEGACY
(Knight's Ridge Empire #12)
Release Date: August 25th
Dark Legacy, the 12th book in the Knight's Ridge Empire series and the 3rd book of Calli and Batman's story, IS NOW LIVE!!
Grab the tissues, and prepare yourself because this one is going to put you through the wringer. DOWNLOAD TODAY!
Start the Dark Trilogy with DARK KNIGHT!!!
DARK PRINCESS #2
Wicked.
Ruthless.
Vicious.
Welcome to the underworld of Knight's Ridge. An empire steeped in history, wealth, secrets, and lies. Where nothing is quite as it seems, and the shadows lingering around every corner are ready to drag you into the darkness.
If you want a white Knight to save you, you're in the wrong place…
Dark Halloween Knight FREE prequel: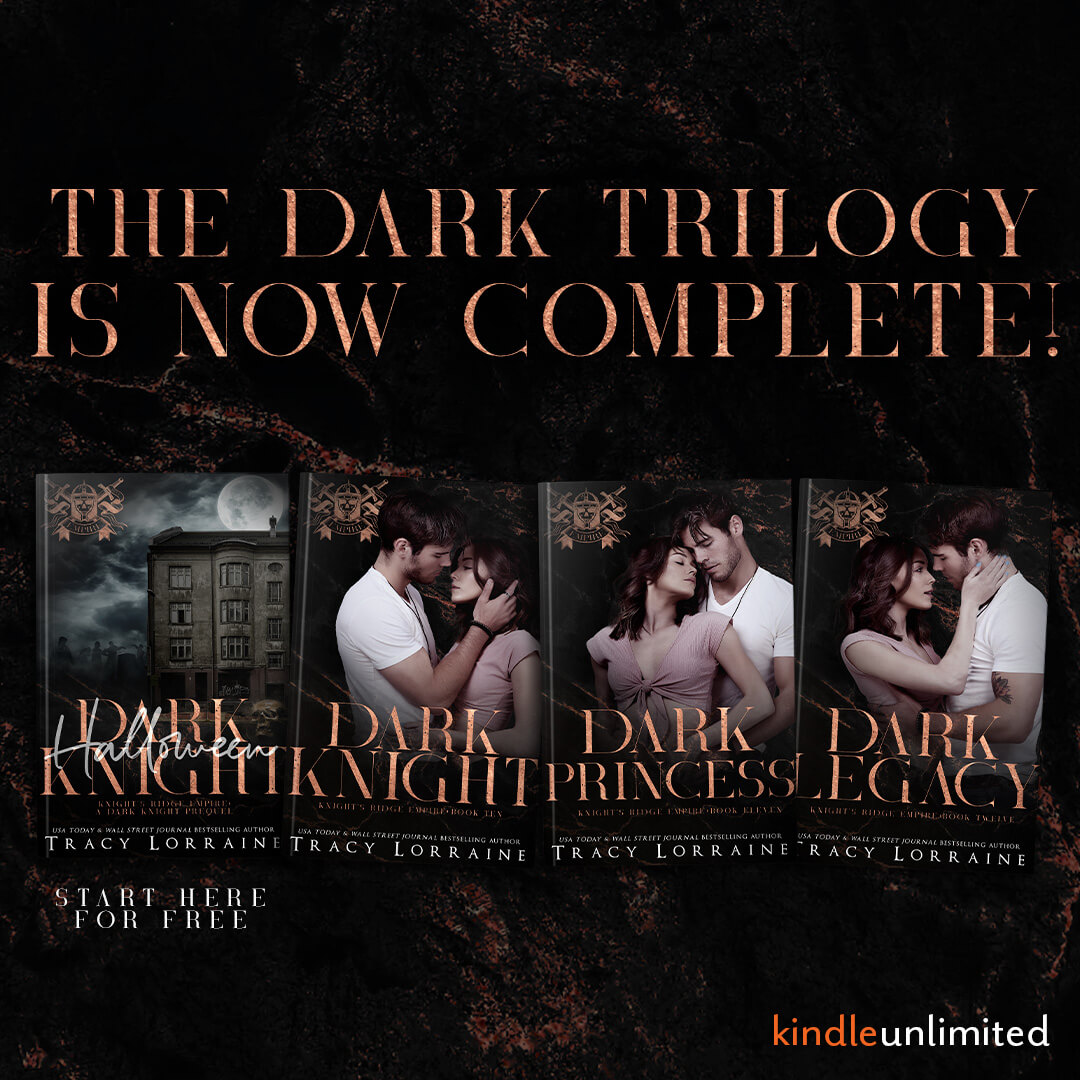 USA Today and Wall Street Journal bestselling author Tracy Lorraine brings you a new dark mafia, high school bully romance story set in the Knight's Ridge Empire world.
We knew it wasn't going to be easy.
That our love could start a war.
That my family might not accept the idea of us.
But we never even got the chance to find out…
Because everything's been ripped away from me.
And all I'm left with is the memory of his touch and secrets that are threatening to break me from the inside out.
Everyone tries keep me together as my entire world falls apart.
But it's never going to be enough.
Nothing ever will be. Without him.
All I can do is hold onto the shattered pieces and try to find a way to make my damaged heart beat again.
I finally get what I always wanted— a chance to decide my own future. But I didn't know this legacy would cost me everything.
I would give it all back, to be in his arms again…
Dear reader,
Dark Legacy is the twelfth book in my Knight's Ridge Empire series, and the third book of Calli and Batman's story. Grab the tissues, and prepare yourself because this one is going to put you through the wringer.
REVIEW
*I received a free copy of this book which I voluntarily chose to write an honest review for.
This book took me through so many emotions!!! We pick back up where the last book left off. They are searching the wreckage after the explosion searching for Evan and Daemon. This leaves everyone raw and in shock leading some interesting responses to events as they are in emotion overload. The story never stops from there as the surprises play out as these two try to find their way towards one another. Makes for a riveting read that you won't be able to put down until you hit the very end creating a fabulous conclusion to this love story. I cannot wait to see what the author will bring us next! I totally loved it so I give it 5/5 stars.

Tracy Lorraine is a new adult and contemporary romance author.
Tracy has recently-ish turned thirty and lives in a cute Cotswold village in England with her husband, baby girl and lovable but slightly crazy dog. Having always been a bookaholic with her head stuck in her Kindle Tracy decided to try her hand at a story idea she dreamt up and hasn't looked back since.