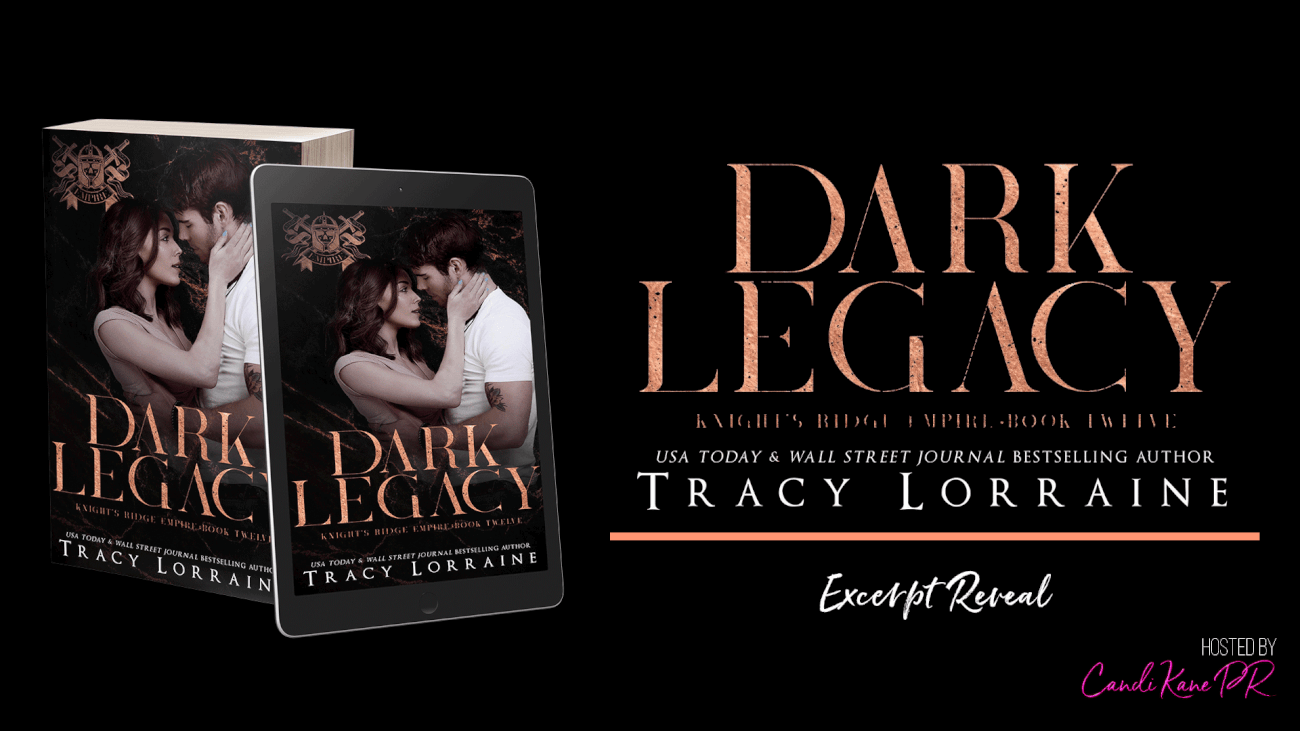 DARK LEGACY
(Knight's Ridge Empire #12)
by Tracy Lorraine
Release Date: August 25th
Wicked.
Ruthless.
Vicious.
Welcome to the underworld of Knight's Ridge. An empire steeped in history, wealth, secrets, and lies. Where nothing is quite as it seems, and the shadows lingering around every corner are ready to drag you into the darkness.
If you want a white Knight to save you, you're in the wrong place…
My lips open and close like a fish as I continue to stare into her exhausted and devastated eyes.
She's been here since everything kicked off taking care of everyone else. Yet, she's lost just as much as we have in all of this.
"He loved you before he even knew the feeling existed, Calli. The way you helped him, the way you saw who he really was."
My bottom lip trembles as her words flow through me.
"For him, there was always something so magical about you. I just always prayed that you saw the same in him and that one day, he'd get everything he deserved."
USA Today and Wall Street Journal bestselling author Tracy Lorraine brings you a new dark mafia, high school bully romance story set in the Knight's Ridge Empire world.
We knew it wasn't going to be easy.
That our love could start a war.
That my family might not accept the idea of us.
But we never even got the chance to find out…
Because everything's been ripped away from me.
And all I'm left with is the memory of his touch and secrets that are threatening to break me from the inside out.
Everyone tries keep me together as my entire world falls apart.
But it's never going to be enough.
Nothing ever will be. Without him.
All I can do is hold onto the shattered pieces and try to find a way to make my damaged heart beat again.
I finally get what I always wanted— a chance to decide my own future. But I didn't know this legacy would cost me everything.
I would give it all back, to be in his arms again…
Dear reader,
Dark Legacy is the twelfth book in my Knight's Ridge Empire series, and the third book of Calli and Batman's story. Grab the tissues, and prepared yourself because this one is going to but you through the wringer.
Tracy Lorraine is a new adult and contemporary romance author.
Tracy has recently-ish turned thirty and lives in a cute Cotswold village in England with her husband, baby girl and lovable but slightly crazy dog. Having always been a bookaholic with her head stuck in her Kindle Tracy decided to try her hand at a story idea she dreamt up and hasn't looked back since.