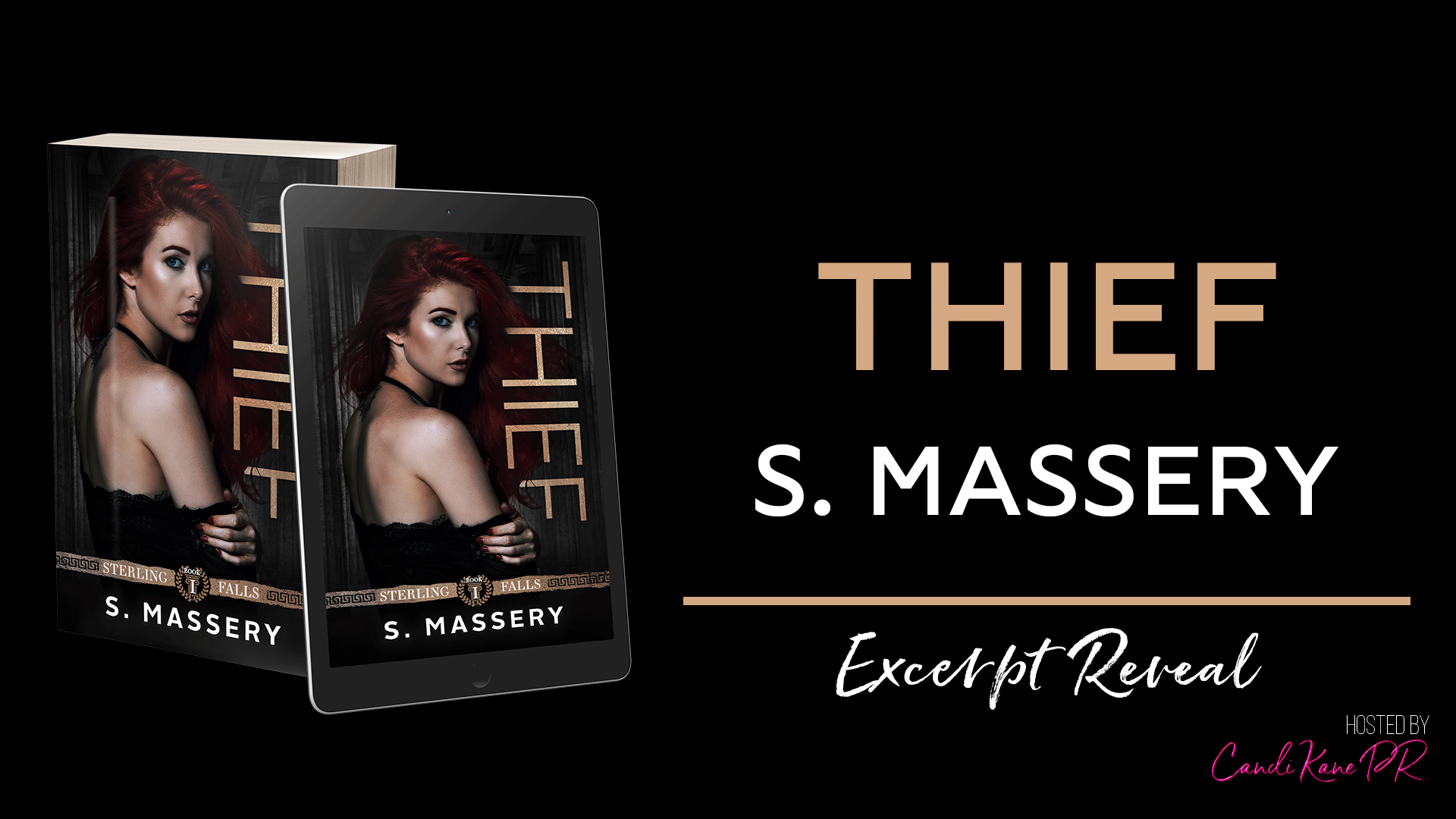 THIEF (Sterling Falls Book 1) by S. Massery
Release Date: January 20th, 2022
Genre/Tropes: Dark gothic reverse harem romance
Add to Goodreads:
https://www.goodreads.com/book/show/59553031-thief
THRILL, a FREE Prequel is AVAILABLE NOW!!
PREORDER IS AVAILABLE!!
Amazon US: https://amzn.to/3qCzkJH
Universal Amazon: http://mybook.to/thief
Nook: https://bit.ly/3HtUH60
Apple: https://apple.co/328qn0w
Kobo:
https://www.kobo.com/us/en/ebook/thief-54
EXCERPT
"Did you come back to watch Hades?"
"No." I tip my head to the side. "Is that what you really wanted to ask me?"
He straightens to his full height. He's quite a bit taller than me, but I'm not intimidated by that. Even though his hands on my arms in the forest sit fresh in my mind, and their howls sometimes ring in my ears, I'm not scared.
What I should be is wary. Wary of pretty boys with masks and ill intentions.
Of dark rooms and violence. Ares is the God of War. Of bloodthirsty rage. He takes my hand without asking and pulls me into him.
His lips touch my ear. "Come with me again, little flower. Your friends haven't noticed your disappearance. And didn't you have more fun with me last time?"
Blurb:
I wasn't supposed to be at Olympus that night.
And I definitely wasn't supposed to witness a murder – or be caught by the killers.
Hades, Apollo, and Ares run the mysterious, masked fight club, and they wield more power in this town than I could dream of holding. They destroy my life with one decree: Kora Sinclair doesn't exist.
Sterling Falls was my chance to start over, but one night derails everything.
My scholarship, my job – gone.
I could run home, but giving up my dreams isn't an option.
Desperate times call for desperate measures.
When I can't repay my debt to an unforgiving man, he gives me a choice. I can steal Hades' mask, or he can take what I owe from my flesh.
But if I do, there's no turning back. More than the fear of his threats, revenge drives my decision. I need to steal the mask.
After all, who better to become a thief than the girl they tried to erase?
About the Author:
Massery, AKA Sara, is a dark romance author from Massachusetts. She enjoys twisting, suspenseful tales with dark anti-heroes and sassy heroines.
Her journey started when she was a little girl, dreaming of stories and frantically trying to capture her dreams on paper. She completed her first novel, Something Special, in 2018, and she has been unstoppable ever since.
Connect w/S. Massery:
Website: https://www.smassery.com
Facebook: https://www.facebook.com/authorsmassery
Facebook Group: https://www.facebook.com/groups/smasserysquad
Instagram: https://www.instagram.com/authorsmassery
Goodreads: https://www.goodreads.com/author/show/18389182.S_Massery
Bookbub: https://www.bookbub.com/authors/s-massery
Amazon: https://amzn.to/3kbZHk8
Newsletter Signup: https://www.smassery.com/newsletter